June 23, 2022
The best places to visit in Yorkshire this summer
Summertime in Yorkshire, it's a special time. Green rolling hills, the delicate smell of cut grass and miles of unspoilt countryside to explore.
Nestled among the picturesque hills and dales the little villages with unique shops to explore, and delicious local food to indulge in gives Yorkshire its special edge. I've travelled a lot over the years and seen some amazing places, but my heart really belongs to Yorkshire.
The great thing about the location of Absoluxe Suites is the close proximity to so many amazing places to visit. We like to make it easy for our guests and each of our suites have detailed guides on places to eat, places to explore and places to walk in the Yorkshire Dales.
Kirkby Lonsdale, itself, is a hive of activity in the summer months, and provides the best of both worlds for our guests; buzzy cafes and restaurants in the centre and tranquil country walks just a stone's throw from the Suites.
Quite a few of our guests include a stay at Absoluxe Suites as a way to break up their journey on their way north to Scotland, or vice versa if they are heading south, and they all like to explore the area whilst they are with us. Many guests ask for recommendations on the best places to visit in the surrounding area, so below I have put together a little list on places that are, maximum, an hour's drive from the suites.
Gaze at the views on the Ingleton Waterfall Trail
A firm favourite among many of our adventure loving guests, the Ingleton Waterfall Trail is a medium length walk that takes in the spectacular waterfalls and woodland vista of the area. There are gorgeous views from the top of this walk and I also love to have a meander around the little shops and stop for a cup of tea in one of the cafes.
If you're spending some time in this village I would also recommend stopping by Lords Antiques & Salvage for an afternoon of treasure hunting. Fascinating place!
Take an afternoon tea in the pretty village of Dent
I always feel like I've gone back in time when I visit Dent, it has that quaint, quiet quality about it. Twinkly little streams, a great pub and an abundance of walks. Explore the unusual streets and pathways and (especially this time of year) take in the beauty of cottages full of rambling roses. Enjoy a delicate scone, with cream and jam – you decide which way around, of course!
Enjoy a beautiful day out at Bolton Abbey
One of the first places I recommend to guests, just for the pure beauty of this place, is Bolton Abbey. The Abbey itself is quite breathtaking and I always like to take a picnic and enjoy the acres of green meadows, paddle in the river and have a drink in one of the cafés.
One of the best things about this place is that it is so easy to park, and you can't say that about many places in Yorkshire! This means you can spend a full day exploring without having to worry about the car.
Potter around the bookshop town, Sedbergh
OK, so technically this gorgeous little village is in Cumbria… BUT it is close by and has the backdrop of the magnificent western dales of the Yorkshire Dales National Park. It's a beautiful place, with winding streets, pubs, cafes and lots of bookshops. If you're into arts and crafts Sedbergh is also home to Farfield Mill, a former Victorian woolen mill that now houses four floors of artisan crafts. An unusual place to explore!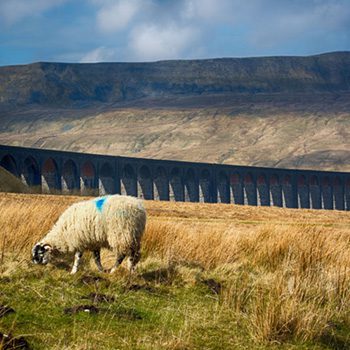 See the sight that is Ribblehead Viaduct
Spanning 400 metres, the Ribblehead Viaduct is made up of twenty-four stunning stone arches that were erected in the Victorian times. The perfect photo opportunity (for even those not interested in trains!) this feat of engineering across the skyline is a real sight to behold.
Summer is one of the best times of year for a visit, with a backdrop of blue skies and fluffy white clouds. There is also a little coffee shop at the Ribblehead Visitors Centre, it's simple but the cake is great!
I hope this has given you a few ideas on places to add to your wish list and that you are feeling excited for the summer ahead. In my last blog I wrote about travel tips for a luxury staycation so if you are planning to visit us this summer there are lots more pointers right here.
Don't forget its best to book early, especially if you're planning to attend an event in the local area. Explore our suites right here.
For all our latest offers and for more inspiration on places to visit in Kirkby Lonsdale and the Yorkshire Dales follow us over on Instagram and Facebook.
---
Image credits:
Ribblehead Viaduct, Yorkshire by Sam Robbins
Bolton Abbey by James Genchi
Yorkshire Dales by Karl Moran
Back to the Blog