January 5, 2022
Take a Dip in Your Own Private Hot Tub
Take relaxation to the next level on a short break with your own private hot tub in Kirkby Lonsdale, near the Yorkshire Dales and Lake District National Park.
---
After a day of roaming the cobbled streets of Kirkby Lonsdale, what could be more perfect than resting your tired feet in your own luxury private hot tub?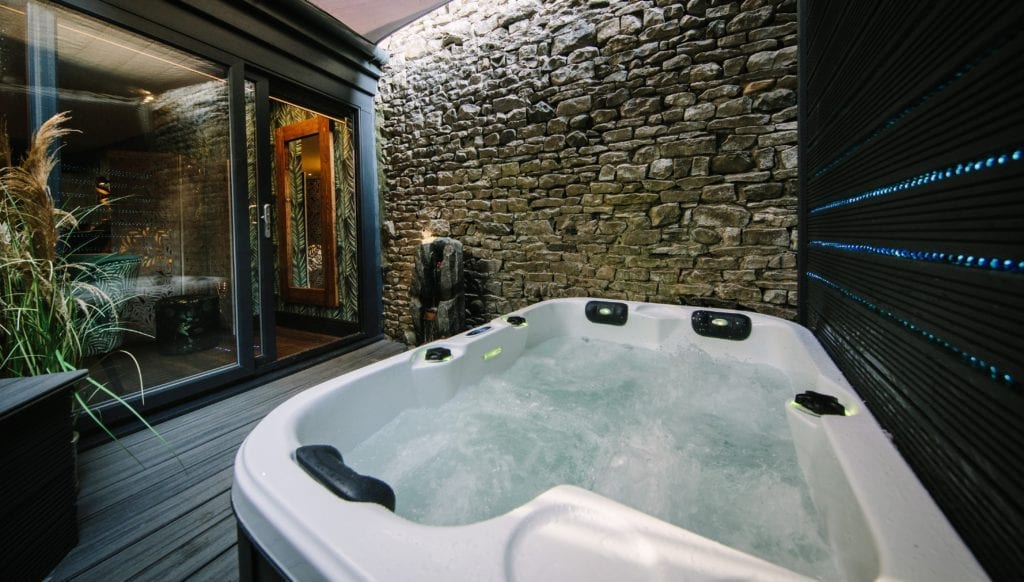 Absoluxe Suites has  the only hotel-style accommodation in the historic market town  of Kirkby Lonsdale offering  its guests an ultimate private Hot Tub experience.
Complete with powerful jets, in wall  mood lighting and soothing water feature! In addition both of our ground floor suites The Oasis and The Orient have private Hot Tub areas, making them the perfect couples romantic getaway or retreat.
The Tubs are always pre-heated in anticipation of your arrival. Therefore  you are free to take a dip whenever the mood takes you. Any time of year, hot, cold, rain or shine! Each of our hot tub areas are covered by a canopy to give you complete privacy. So you can lie back and be anywhere in the world. Pure escapism.
What health benefits can be gained from soaking in a hot tub?
Stress Relief – aided by the in wall mood lighting we have installed
Muscle Relaxation – widening of blood vessels through heat is purported to send nutrient rich blood throughout your body
Improved Sleep –  can help with insomnia in older adults promoting deeper and more restful sleep
Pain Relief – eases stiffness and water supports the body and takes weight off joints
Better Cardiovascular Health – relaxing in a hot tub can raise your heart rate and lower your blood pressure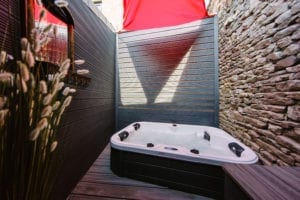 What is there not to enjoy about a soak in a tub of warm water and water jets giving parts of your body a gentle massage?
Our Oasis and Orient luxury suites are equipped with slippers and luxury cotton Bath Robes for you to wear in the Hot Tub areas which we hope will give you a complete luxury experience.
"Ridiculously relaxing hot tub just pushes the experience from sensational to completely other worldly! You have created an absolute haven of tranquillity and luxury in a perfect setting" – Richie & Taryn, The Oasis
You could also indulge yourself further  with one of our extra packages to give an extra touch of luxury to your stay? Get lost in the bubbles and book your stay with us today, or explore the local treasures of Kirkby Lonsdale.
Back to the Blog