March 29, 2021
Fine Dining Restaurants in The Lake District
With a landscape filled with some of the best local produce in the UK. It is unsurprising that Cumbria has an array of award-winning fine dining restaurants.
Take a look at seven of our favourite Lake District fine dining restaurants:
–
L'Enclume, Cartmel (20 miles from Absoluxe)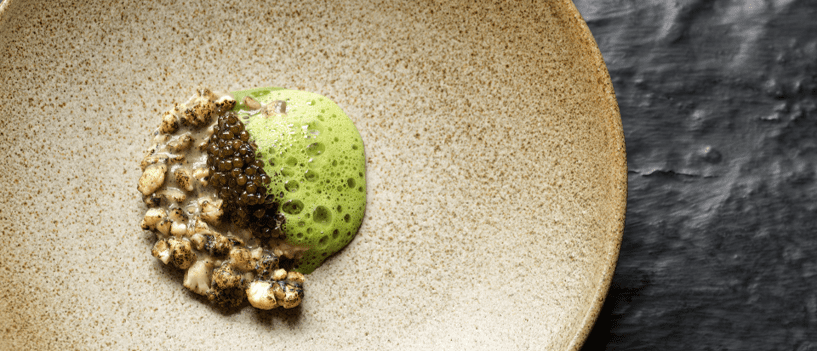 Possibly the most well-known fine dining destination in the Lake District. L'Enclume in Cartmel is owned by two times Michelin Star chef, Simon Rogan and is certainly the jewel in the South Lakes culinary crown.
The restaurant has its own onsite farm which dictates the menu and acts as the chef's main source of inspiration. "ingredients that change with the seasons inspire my menu development and ensure a truly traceable dining experience, reflecting my farm to table philosophy".
L'Enclume also holds five AA Rosettes and was named the number one restaurant in the UK by The Good Food Guide 2020.
—
1. Hipping Hall, Cowan Bridge (2 miles from Absoluxe)
Only a 5-minute drive from Absoluxe lays the beautiful grounds of Hipping Hall. A favourite destination for locals, often savoured for those special occasions.
Head Chef Oli Martin made his mark on the culinary world when he became a finalist on the BBC's Masterchef the professionals. Plus. At only 30 years old his is one of the youngest head chefs in the UK to front an award-winning kitchen, including four AA Rosettes.
Hipping Hall's menu takes inspiration from the local landscapes seasonal produce, mixed with some of Oli's personal childhood favourites, given a fine dining twist!
—
2. Lake Road Kitchen, Ambleside (26 miles from Absoluxe)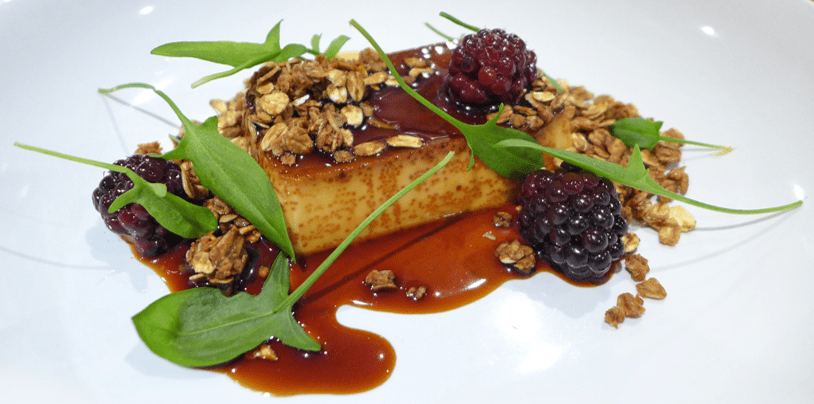 In a few short years 'Lake Road Kitchen' has 'become one of the area's outstanding go-to destinations. Deeply rooted in the heart of the Lake District with an ambitious yet heartfelt menu.
About 80% of everything green on the menu is foraged; the remainder comes from the highest-quality local suppliers. Dishes include fallow deer from the Holker Estate, aged steak from Lake District farms, and Fylde Coast wigeon. In conclusion, every dish is creatively conceived and expertly put together. Creating food of the highest order.
—
3. Hrishi, Gilpin Spice, Windermere (19 miles from Absoluxe)
The laid-back 'Gilpin Spice' has an open kitchen serving tapas-style pan-Asian dishes inspired by countries along the spice trail. Spanning the Philippines, the Indian sub-continent, Malaysia, Thailand, Indonesia, Japan and China.
With envy-inducing interiors and panoramic views to the Lake District fells, it is easy to fall in love with Hrishi. Therefore, you can be assured the quality of the dishes is stumbling upon perfection, with a Michelin star under their belt, plus four AA Rosettes.
—
4. Old Stamp House, Ambleside (26 miles from Absoluxe)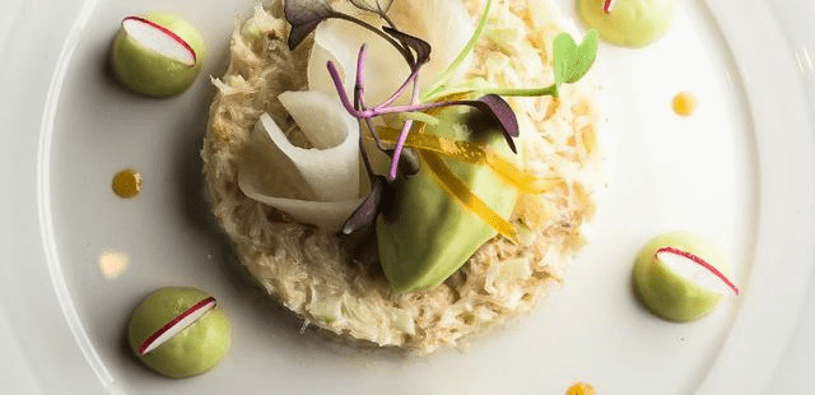 The Old Stamp House restaurant creates food inspired by Cumbria, its people and heritage. Sat in the heart of Ambleside just off the shores of Lake Windermere, the restaurant is housed in the former office of the great poet William Wordsworth.
The Old Stamp House showcases a unique food culture. Long influenced by the county's rich trading historical seafaring trade with distant lands in the Americas, Caribbean, and India. These historic Cumbrian dishes make full use of a huge array of imported spices such as pepper, mace, ginger, sugar and rum brought to these shores through the coastal ports of Whitehaven and Maryport.
—
5. Forest Side, Grasmere (30 miles from Absoluxe)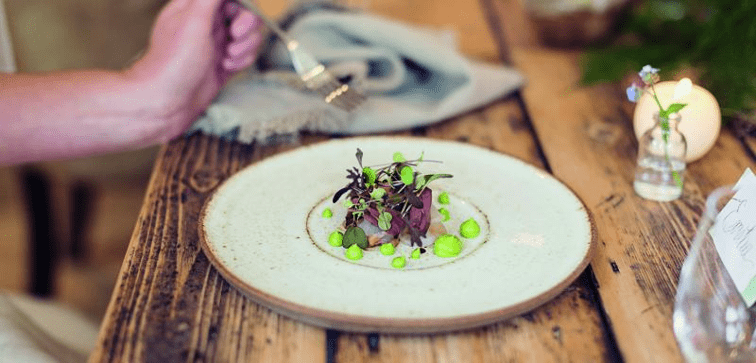 The Forest Side's restaurant is designed to be, a reflection of the Cumbrian landscape in which it sits. To help achieve this, the chefs' select only the freshest locally sourced seasonal produce. Which is then paired with an exclusive wine list featuring small organic and bio-dynamic wine producers.
Head Chef Paul Leonard used an artful combination of interesting and unusual flavours stemming from his love of the countryside. Plus the fabulous ingredients with which we are blessed in Cumbria. This provides diners with an unrivalled experience to excite and tantalise your taste buds and senses.
—
6. The Samling, Ambleside (24 miles from Absoluxe)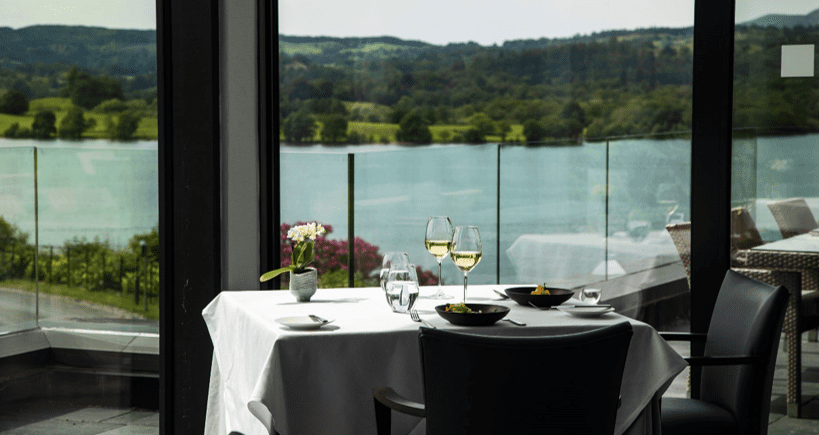 You will struggle to find a better view than that from The Samling's Dining Room. A panoramic scene of Lake Windermere and the counties rolling mountains. In response to the dramatic landscape the restaurant sits in, Executive Head Chef, Robby Jenks, is developing and refining menus with a purity of flavour based on the core ingredients in each dish. therefore where possible these ingredients are from their greenhouse, gardens and woodland, locally sourced, or the best available in the UK.
We would recommend booking for a Fine Dining Lunch, to be able to make to most of the stunning views.
—
7. Linthwaite House, Bowness-on-Windermere (21 miles from Absoluxe)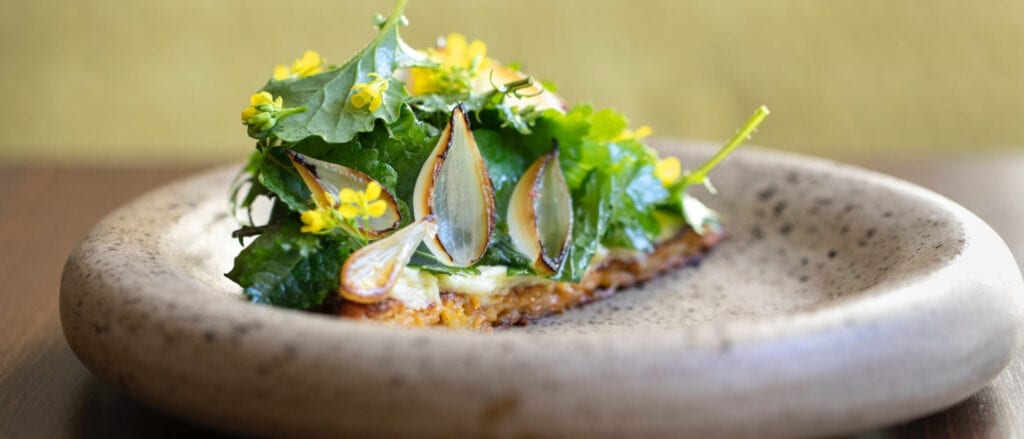 Henrock at Linthwaite House is a new, informally elegant restaurant by Simon Rogan (L'Enclume). True to the Simon Rogan's ethos, the focus lies on beautiful local ingredients, including produce from his own Farm located just a few miles away in the Cartmel Valley. Henrock's á la carte menu features small plates and sharing dishes. Which are influenced by advanced culinary techniques and produce discovered on the chefs travels around the world.
Have we inspired you to book? Take a look at our suites here and start planning your luxury get away!
Back to the Blog