February 14, 2020
Explore The Lake District
Explore the Lake District – With over 47 million visitors a year, the Lakes is one of the UK's busiest tourist attractions. Due to its outstanding natural beauty and tranquil surroundings.
The Lakes were given the status of UNESCO world heritage site in 2018. Joining 1210 other notable location around the world.
Take a look at our personal selection of highlights to help you explore the Lake District.
---
Lake Windermere: 20 miles from Absoluxe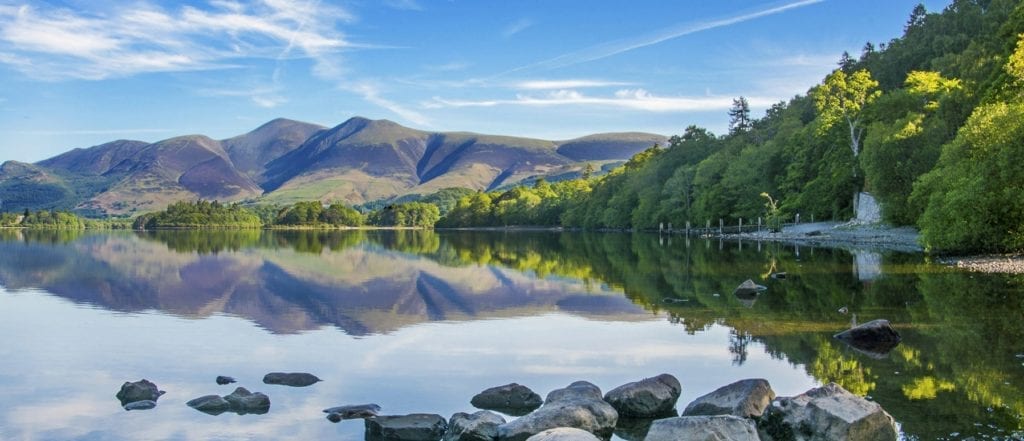 The UK's largest natural body of water, measures an impressive 10.5 miles long and surrounded by rolling mountains and the most spectacular views. But don't be fooled by its name, the 'lake' is in fact a 'mere' which is a term used to describe a body of water of a certain size. As a result the term 'lake' is simply used to distinguish the mere from the town of Windermere.
The vast expanse of water houses 19 islands. Some of which are inhabited and some that make perfect summer picnic destinations! There are numerous stations along its cost for visitors to acquire a boat and sail the waves.
—
Lakeland Arts / Blackwell House: 20 miles from Absoluxe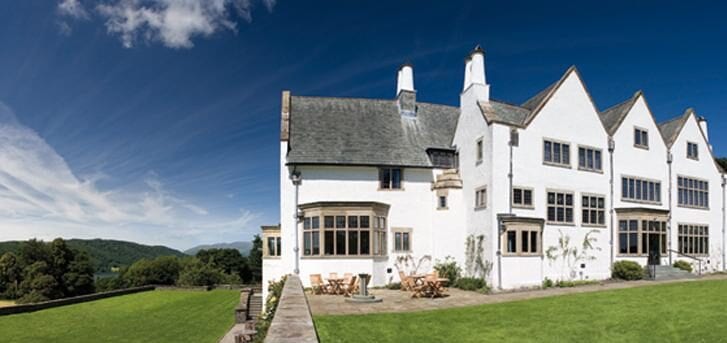 The Lake District is home to some of the countries most beautiful works of art, by both world renowned and local artists.
Blackwell Arts and Craft House is part of the Lakeland Arts Trust. Which own multiple galleries throughout Cumbria, including Abbot Hall art Gallery in Kendal and The Museum of Lakeland Life.
The Blackwell House is home to original decorative features by leading Arts & Crafts designers, including a rare hessian wall-hanging in the Dining Room which is a must see! Similarly the leaf-shaped door handles, ornate window catches, spectacular plasterwork and stained glass are certainly worth the visit.
—
Hill Top House: 27 miles from Absoluxe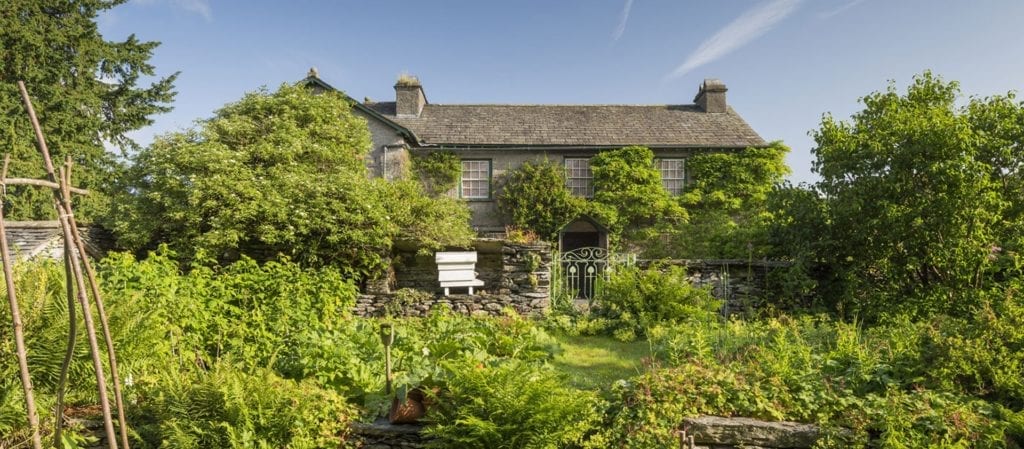 Perhaps the most famous building in the Lake District. Hill Top House in Ambleside was the residence of Beatrix Potter and inspiration behind the world famous Peter Rabbit storybooks. Visitors can discover the House and Gardens which influenced the tails of Peter, Flopsy, Mopsy and Cotton Tail. Due to its quaint natural beauty.
The house has been kept as a near perfect replica. Just how it would have been lived in by Miss Potter over 100 years ago. As if she had just stepped out the font door to tend to the garden.
—
Dove Cottage: 28 miles from Absoluxe

"I wandered lonely as a cloud, that floats on high o'er vales and hills, when all at once I saw a crowd, A host, of golden daffodils"
In 1799, William Wordsworth fell in love with Dove Cottage and Grasmere whilst touring the Lake District. Within a few months, he had set up home at the cottage with his sister Dorothy. It was here he composed his most famous poems.
The cottage is now open to the public throughout the year. It is full of intriguing artefacts and hidden gems for guests to explore.
—
Grizedale Forest: 30 miles from Absoluxe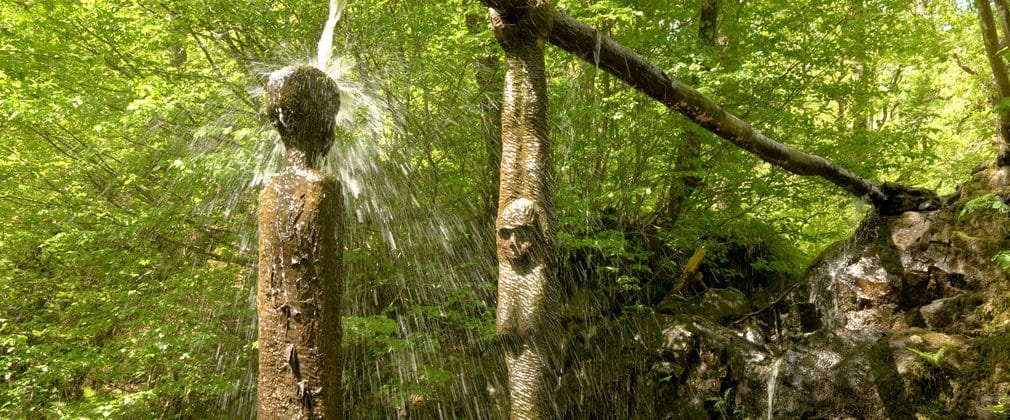 Grizedale Forest is nestled within the heart of the Lakes. Between Lake Windermere and Coniston. It is home to over 40 unique works of art, from impressive sculptures to modern art installations.
The forest is free to roam all year round and is perfect for those seeking an adrenaline rush. Or those who simply wish to wander amongst the trees and experience the forests natural beauty.
You can also take advantage of their events program, including Star Gazing and art exhibitions.
—
Manjushri Kadampa Meditation Centre: 30 miles from Absoluxe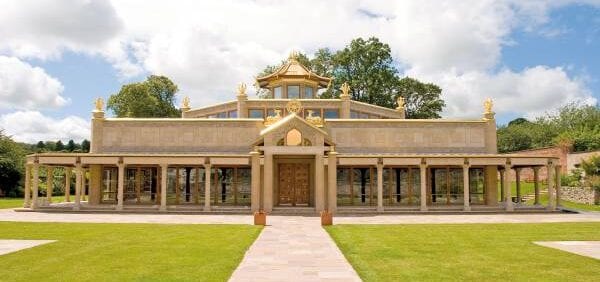 An unusual find in the heart of the lakes, a meditative retreat to calm the sole and revive the mind!
The meditation centre is based just outside of Ulverston. It is an active Buddhist Temple which is used in daily prayer and meditation. The temple is open to the public and visitors are welcome to join in the cultural practices.
Manjushri is home to the first Kadampa Temple dedicated to World Peace. It also houses the largest bronze statue of Buddha cast in the West.
Though built according to a traditional design, it promotes itself as a modern Temple that provides a peaceful respite from our otherwise busy world.
—
Ravenglass Railway: 47 miles from Absoluxe
The Ravenglass Railway is one of the oldest and longest railways in England. Also known affectionately as the "La'al Ratty". Built in 1913 it has since taken passengers along its costal route through the Lakes right up to Hadrians Wall.
The line is seven miles long with a journey time of 40 minutes each way. Offering spectacular views over the estuaries and countryside with England's highest mountains in the distance. There are great walks between the seven intermediate stops along route. The main season runs from March until October. With a special service Christmas service throughout December.
---
To find our more ways to explore the lake district. Take a look at Go Lakes for lots of ideas and tips.
Furthermore, if we have inspired you to book! take a look at our suites or visit our homepage to read more about Absoluxe in Kirkby Lonsdale.
Back to the Blog