August 4, 2022
Bring a little Absoluxe-luxury to your Minimoon
The Ultimate Luxury Minimoon
The venue is booked, you've sent out the invites, your Mum has her biggest hat at the ready, everything is planned to perfection in preparation for what is going to be the happiest day of your life. Weddings bring me such joy, if you can't already tell, and I just love hearing from excited newlyweds looking for that little bit of extra luxury after the whirlwind of their big day.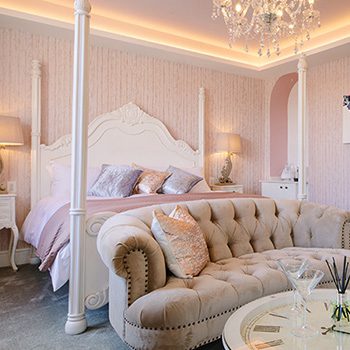 Now, I have been to a lot of weddings, and something I would always recommend is taking the time to book yourself a special mini break for after the wedding. Trust me – post wedding you will be thankful you did.
Weddings are all about you celebrating your love and commitment, but you spend very little time together 'just you' on the actual day.
Booking a few days away from the hustle and bustle of gifts and congratulations means you can revel in each other's company, relive the day, cement the memories and just simply relax.
At Absoluxe, we have a few tricks up our sleeves when it comes to making your stay one to remember. All our suites are beautiful, if I do say so myself, but it's the Parisian Suite that really brings the post wedding vibes…
Why choose Absoluxe for your Minimoon? **
Pure Luxury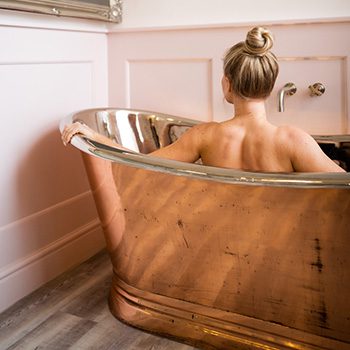 The Parisian Suite provides the perfect luxurious backdrop for your romantic Minimoon, with decadent copper bath, the fluffiest white bath towels, and the most gorgeous complimentary bubble bath. This suite contains beautifully stylish decor, a sumptuously soft bed, room to lounge and a separate powder room area.
A special arrival
Mark the start of married life in style with scattered rose petals and balloons upon your arrival. A chilled bottle of our house Champagne (we just love Gremillet) will be awaiting you and you can enjoy our fabulous Deli Platter in your room that very evening. I will add another bottle of our Gremillet Champagne the following evening of your stay, and there is nothing more indulgent than enjoying a glass of bubbly in the bath!
Enjoy breakfast in bed
Our Minimoon package includes continental breakfast in bed on both mornings of your two-night stay, a delicious way to start the day. Breakfast in bed really is one of life's simple luxuries, and after the busyness of your wedding day you can sit back and let everything be taken care of for you.
Netflix and…sweets
Cuddle up in bed and enjoy your favourite film on Netflix, perhaps your first as a married couple! I always make sure to add a jar of retro sweets in the room so you can indulge your sweet tooth, whilst spending the evening experiencing the superior sound and large television screens.
For anything else you might need
I am here. Providing you with a concierge service to help you choose a restaurant for dinner or lunch and plan any excursions…although you may never want to leave the suite again!
A luxury Minimoon gives you the opportunity to enjoy each other, unwind and recharge. I advise leaving your phones in your luggage, kicking off your shoes, eating lots, sipping Champagne and making the suite your ultimate newlyweds paradise for two nights.
This package is one of my absolute favourites, I love hearing feedback from guests afterwards, and in fact we get many returning visitors who go on to book Wedding Anniversary breaks and even Baby Moons with us!
For more Minimoon inspirations explore The Parisian Suite right here and enjoy a daily taste of Absoluxe over on our Facebook page and Instagram feed.
**This Minimoon package is exclusive to The Parisian suite on a 2-night stay and can be selected at the point of booking
Back to the Blog